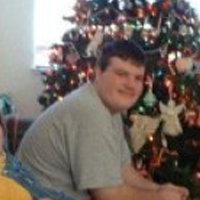 Sonora California
(May 6, 1986-April 3, 2010)
Kris was a happy child who was devoted to his mother, his family, and of being a service to others. Having been raised by a single parent with disabilities and financial hardship, he knew what it was like to need assistance. Because of this, Kris set his mind on a path to dedicating his life to helping others.
Kris had many plans for his future with desires to serve his country in the military as well as go to college and pursue a career as an attorney.
Kris experienced his first seizure in June 2001 at the age of 14. With several years of physical and cognitive decline and no diagnosis, many visits to neurologists and an array of medications, Kris finally received a diagnosis of Lafora in May 2005. By this time he had turned 18.
Shortly after his 18th birthday, Kris became under the care of the state of California, and was moved over the next 5 years to many different residential care facilities. His health declined very rapidly and he experienced many serious complications that resulted in many long term hospital stays. His family saw him as much as they could.
Kristopher Thomas Koch-Shumate, born May 6, 1986, lost his battle with Lafora with his mother by his side the day before Easter, April 3, 2010. He was 23. May he rest in peace.
---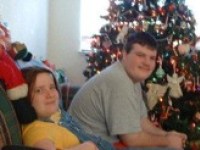 Biography
Until Kris was stricken with Lafora, he played trumpet in the regional high school band, and he sang in the base choir and the concert choir, he loved to work with wood, and learned to play chess when he was five and was winning most teachers hearts by seventh grade. Kris loved computers and taught the senior citizens how to use them. He played basketball football, baseball, and soccer. He loved people, bringing them to church to tell them about the Jesus he loved so dear. Animals were a big part of his life. Kris loved life in general.  He used to be in  scouts and wanted to serve his country and go to college to become a pastor or an attorney.  He had a passion for helping people who are disabled as I, his mother, have lived for a while with disabilities.  At the age of 14, with so many plans for his future, Kris had his first seizure.  That was June of 2001.  We didn't get the diagnosis of Lafora until May of 2005.
Due to my disabilities, my time with Kris is severely restricted because he is in a hospital after being abused by four care facilities.  He suffered a fractured leg, fractured skull, starvation and neglect, and deep bed sores. The regional center would not let me help or have any thing to do with his care because he was over eighteen years old.  Now he is two hours away in an acute hospital because there is nowhere to place him, nor can I bring him home due to the fact of my own disabilities, and the fact we do not live in an area that can provide the care they need. Joseph is Kris & Angel's brother and he has a learning disability and recently had a tonic clonic seizure, however the doctors will not test him.
My children deserve to have some hope for a future. They were both filled with love and life and kindness; they had planned on devoting their lives to a future of service.  Today, they are unable to help themselves, and I am unable to physically care for them.
My children are the joys of my life. I have dedicated my life to make sure they had a future teaching them what you give in life you will receive not expecting anything from any one just a joy that you were there to help others. Life is what you make of it.  I have to believe that there is a promise of a cure on the horizon.  Kris and Angel wouldn't want this to be the fate or destiny of any other children.  Research is the answer to all of our prayers.
– Provided by Tricia, another grief stricken mother
https://chelseashope.org/wp-content/uploads/2017/09/200x200-Kris-Shumate-1.png
200
200
Chelsea's Hope
/wp-content/uploads/2017/09/logo-Chelseas-Hope.png
Chelsea's Hope
2017-09-24 22:18:18
2017-12-09 22:23:39
Kris Shumate