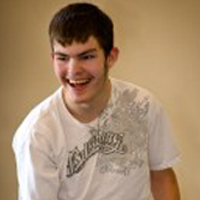 Hanford, California
(April 27, 1992-July 26, 2011)
Hanford Sentinel, July 26, 2011
Local Inspiration DJ Lucken Dies by Brandon Santiago
Douglas "DJ" Lucken, whose struggle against a debilitating genetic disease was chronicled in The Sentinel, died Saturday at his home in Lemoore surrounded by his family. He was 19.
"Our family has been so touched by the support from the community, especially the students at Lemoore High School," said Christina Zigler, Lucken's mother. A memorial car wash is scheduled for 10 a.m. Wednesday in the Lemoore Kmart parking lot; students also held a candelight vigil for DJ Sunday night.
"These kids have demonstrated so much compassion in our time of need. Just as they said that Doug amazed and inspired them, these students have amazed and inspired my family by how quickly they rallied to honor him. In just a day they put together a car wash and candlelight vigil."
Students at Lemoore High have been very supportive ever since a story about Lucken ran in The Sentinel in January 2010.
The students, staff and school administrators immediately created a special fundraiser called "Doug's Daily Dollar," which successfully raised $10,000 to help with Lucken's treatment. He was also voted prom king at the 2010 Lemoore High School junior-senior prom. The vote had been nearly unanimous. Principal Rodney Brumit said Lucken received several hundred votes, while his only competitor got about five. "It was pretty touching," Brumit said in a previous interview with The Sentinel. "This group of kids, they're pretty amazing."
As an incoming freshman at LHS, Lucken had an unreserved passion for school and anything that allowed him to learn — he also had dreams of becoming a pro motocross rider.
In September 2006, his dream ended when he had his first seizure while outside washing his mom's truck. He was rushed to the hospital and put on eight different medications — mostly all to help control seizures. The doctor caring for him advised that he undergo genetic testing for the extremely rare and "unlikely" disease Lafora — an inherited and progressive type of epilepsy caused by a mutated gene. The gene is created when two rare genes, one from each parent, are combined.
On Aug. 6, 2007, nearly six months after the tests, he and his family were devastated by the news that he did in fact have the Lafora-causing gene. Reported in only 11 children in the U.S. and 200 worldwide, Lafora disease begins in late childhood or adolescence and becomes progressively worse over time, usually taking the life of the person in two to 10 years. A little more than a month ago, Lucken had a bad episode of seizures and it was decided he should be kept home and under hospice care. When he died this weekend, there were no seizures; he simply went to sleep. "It was very peaceful," Zigler said. "There was no pain. He just wasn't ever really the same after that last bout of seizures he had a while back. But we did get one last smile from him before he went. He was a fighter, he fought and fought for years."
---
Biography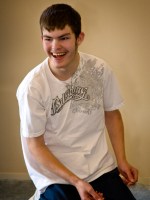 Douglas Jacob Lucken (DJ) was born on April 27, 1992 in Lemoore, Ca. He has been a very happy, fun, energetic and very intelligent child. He always learned very quickly. His passion has always been riding and working on bikes. Doug absolutely loves school and currently he is still doing that.
In September 2006, at the age of 14, he had his first seizure. At the time we never saw it coming. We thought that it was just heat or just an adolescent seizure. He was referred to a neurologist in Hanford, CA. The doctor had him on 8 different medicines, Depakote was one of them. He was taking 5000mg of that a day along with an anti-anxiety medicine. It seemed as though it was just making him lethargic. By December of 2006, Doug was having trouble walking, standing, and doing the everyday things he used to do. We noticed that he was having full body spasms, twitching, jerking and some incoherency. We thought that it was just the amount of medicine. The doctor was stumped and referred us to UCSF neurology clinic for further evaluation.
In February of 2007, we went to UCSF for a consultation. At that point that doctor that was evaluating him said that he wanted to keep him there. We never expected that either. We were only there for a consult. They kept us and de-toxed him off the 8 different meds that he was on. We were given to the Chief of Neurology, Dr. Hutchison. Doug did so well coming off of everything. No twitching, jerking, spasm or anything. In the 15 days that we were there they kept him hooked to the EEG machine to see where the seizure could be stemming from. They found nothing. About 7 days into the stay Doug had a seizure and at that time he did not have the EEG on. Towards the end of the stay Dr. Hutchison faces us with the decision to do the genetic testing for Lafora Disease. He said it is very rare, but Doug probably didn't have it but he wanted to rule it out. So we did the testing.
On August 6, 2007 we were given the horrible news that my beautiful baby boy had Lafora Disease. As you all know and have experienced that is devasting. Douglas has progressed downward since then. He is now on 6000mg of Keppra a day along with 6mg of Ativan a day. He is drooling now, has a hard time sometimes using the bathroom on his own. He does have twitching, jerking, problems swallowing and memory loss as well. We also battle with mood changes. He gets very angry sometimes. He has seizures and they seem to be in the early mornings between 5-7am. They last for about 30 sec to 1 minute. They are starting to get a little more intense.
He is such a brave little soldier. He still gets to go to school, but he is half days now. Doug looks forward to going. He still wants to ride his bike, skateboards, work with tools, but this disease is just eating at his poor little body. We have also chosen not to tell him about his condition. My family and I feel that he has been stricken with such a terrible disease that why break his heart. Let him live each day to the fullest and let him think that he always doing his best. With the help from my husband, his step-father, my sister, Judy and Dave, he is able to keep going and keep that smile on his face. We are very fortunate to have lots of help.
We often take life for granted!! My family and I have learned that the little things in life are the most memorable and the things that you used to worry about are really not that serious. Each day that Doug gets up with his smiling face is a blessing to all of us!!
– Provided by Christina Zigler, DJ's mom
---
Press
The Hanford Sentinel
July 29th, 2011
"Family, Friends Honor DJ Lucken, Recall Cherished Moments"
by Brandon Santiago
"Life is not measured by the number of breaths we take, but by the moments that take our breath away," was repeated often during the memorial services held Thursday morning for Douglas "DJ" Lucken at South Valley Community Church in Lemoore. The quote was even engraved on one of the frames holding Lucken's pictures inside…."read more
—————————-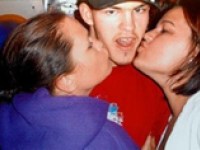 The Hanford Sentinel
July 26th, 2011
"Local Inspiration DJ Lucken Dies"
by Brandon Santiago
"Douglas "DJ" Lucken, whose struggle against a debilitating genetic disease was chronicled in The Sentinel, died Saturday at his home in Lemoore surrounded by his family. He was 19…."
—————————-
The Sentinel
June 18, 2010
"Make-A-Wish Grants DJ a Trip to the Track to Meet his Hero"
by Victoria Jones
"Douglas "DJ" Lucken is in a hotel in Pleasant Hill today awaiting a meeting with his hero, Dale Earnhardt Jr. at Infineon Raceway in Sonoma.
DJ recently was selected by the Make-A-Wish Foundation of Central California because he has Lafora disease, a progressive form of epilepsy characterized by recurrent seizures and progressive neurologic degeneration." read more
—————————-
The Sentinel
May 5, 2010
"A Royal Night for DJ"
by Victoria Jones
"Douglas Lucken poses with Ellie Aguilera Saturday night after the two were named prom king and queen at the LHS juniior-senior prom.
In what the principal describes as a spontaneous incident, Douglas "DJ" Lucken was voted prom king at the 2010 Lemoore High School junior-senior prom held on Saturday night." read more
—————————-
KSEE News
March 29, 2010
"Lemoore Students Raise $10K for Classmate With Rare Illness"
"Lemoore teen Doug Lucken is living with constant seizures that have attacked his memory, muscle movement and most of his speech. It's all part of Lafora Disease, a very rare ailment …"
Read more
—————————-
The Sentinel
January 16th, 2010
"DJ's Hope"
by Melissa Knopp
"He was a healthy 14-year-old boy with a smile that stretched from ear to ear. As an incoming freshman at Lemoore High School, Douglas Lucken, or DJ, was popular with the girls and had a knack for working on bikes…" Read the article "The Hanford Sentinel"
https://chelseashope.org/wp-content/uploads/2017/09/200x200-Douglas-Jacob-Lucken-1.png
200
200
Chelsea's Hope
/wp-content/uploads/2017/09/logo-Chelseas-Hope.png
Chelsea's Hope
2017-09-24 21:47:54
2017-12-09 22:22:22
Douglas Jacob Lucken