The 5th International Lafora Epilepsy Workshop:
Shifting paradigms, paths to treatment, and hope for patients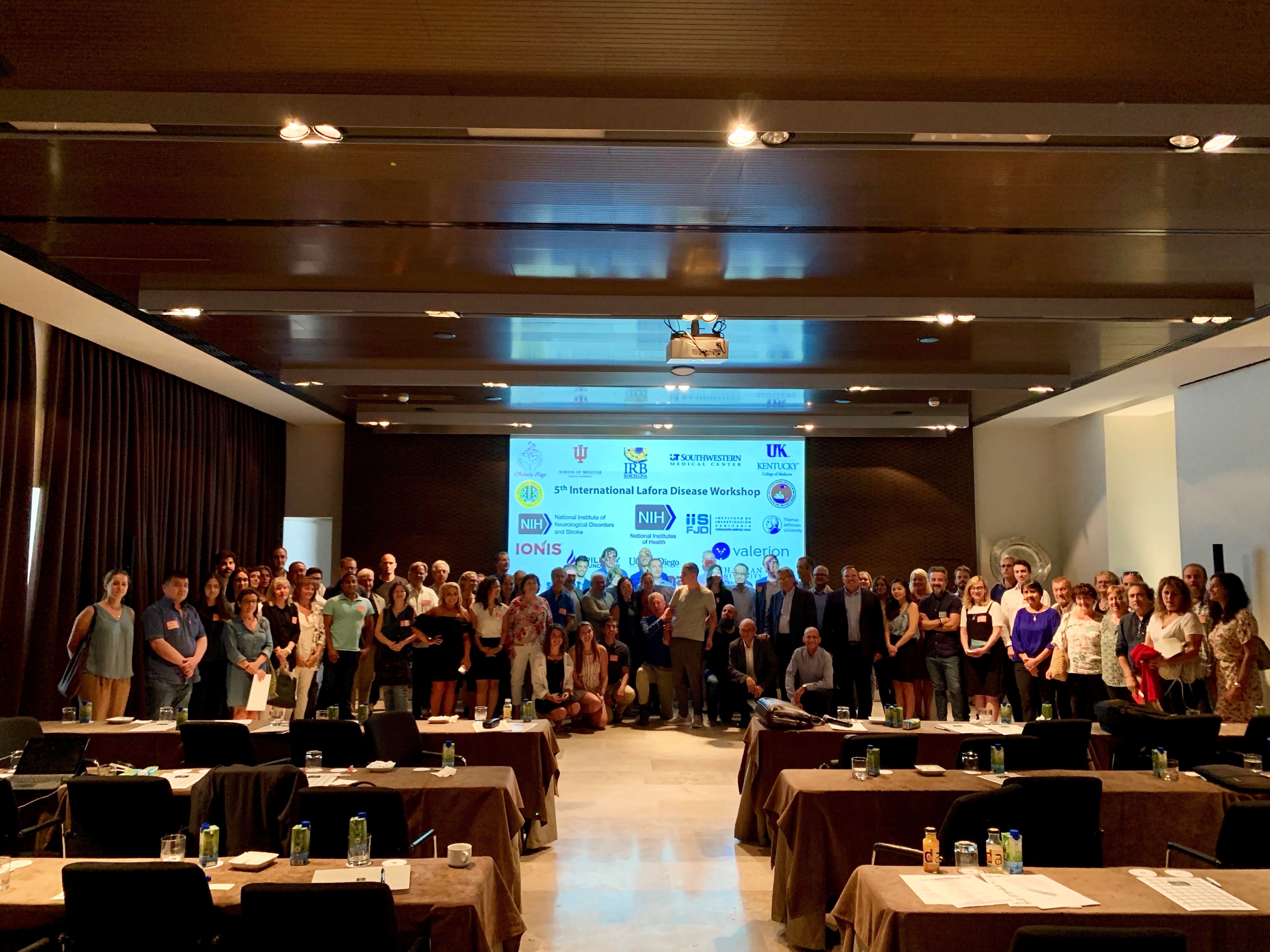 The 5th International Lafora Disease Workshop was held in Alcala, Spain on September 9 – 11, 2019. The meeting was organized and hosted by Dr. Matthew Gentry, Director of the Lafora Epilepsy Cure Initiative (LECI) and Professor at the University of Kentucky College of Medicine; Dr. Jose Serratosa, Chief of Neurology, Fundacion Jimenez Diaz, Madrid, Spain; and Dr. Kim Rice of Chelsea's Hope Lafora Children Research Fund.
Read more about the Workshop here
Lafora disease is the most severe form of human epilepsy. It is an inherited myoclonus epilepsy syndrome. Most cases of Lafora disease are caused by mutations in one of two known genes: EMP2A and EMP2B. Both genes are located in chromosome 6. The gene EPM2A makes the protein called Laforin and the gene EPM2B makes the protein called Malin. A few cases of Lafora disease are caused by an as yet unidentified gene(s). The disease most commonly starts as epileptic seizures in adolescence. Rarely, it begins in 5 to 6 year old children as a learning disorder. There is a higher incidence of the disease in children of Middle Eastern, Southern European (Spain, France and Italy), South Asian (India and Pakistan) and North African descent. The disease appears to affect males and females equally.
The extent of the disease is devastating. Although the child is born with Lafora, the disease typically does not manifest itself until adolescence. Children grow up normally, with no perceivable problems until they begin to suffer with seizures. That is one of the cruelest things about Lafora. A normal, beautiful and apparently healthy child who has everything to live for is faced with nothing more than a "death sentence". Therapy is primarily palliative and aimed at reducing seizures. From manifestation, which is normally the first seizure, a Lafora victim will die typically within 10 years. There is no cure.
Recurrent, Increasingly Intractable Seizures
Cognitive Decline
Ataxia (difficulty controlling muscles)
Myoclonus
Difficulty Walking
Difficulty Eating
Speech Difficulty
Dementia
Sign Up For Our E-Mail Newsletter
Chelsea's Hope (ChelseasHope.org) began in the fall of 2007 as a means to share Chelsea Gerber's story with family and friends. This is was two years after she was diagnosed with Lafora disease at the age of 14. Through this website, the Gerber family has been able to help raise awareness about disease, connect with other Lafora families, and to help fund research to try to find a cure.
In September 2009, Chelsea's Hope Lafora Children Research Fund became an IRS 501(c)3 non-profit organization. Nonprofit Public Benefit California Corporation EIN: 27-1008382.
Chelsea's Hope is a member of the Rare Epilepsy Network (REN).
To raise funds for research, treatment, and ultimately, a cure — for those affected by Lafora. This requires raising awareness about Lafora and the children it afflicts. Chelsea's Hope is also here to provide connection and assistance for families in the form of education, emotional support and general assistance.
"Together, we can maintain hope" – Linda Gerber
Lafora Disease research little to no funding from the Federal Government. This is due in part to Lafora's classification as an orphan disease (a condition that affects fewer than 200,000 people nationwide). The other challenge is funding for Lafora research is in competition with more than 7,000 other orphan diseases. There simply isn't enough funding to go around. Our hope is that by raising awareness about Lafora disease, we can dramatically increase the funding for research needed to find a cure.
/wp-content/uploads/2017/09/logo-Chelseas-Hope.png
0
0
Markou
/wp-content/uploads/2017/09/logo-Chelseas-Hope.png
Markou
2021-11-24 19:12:15
2021-11-24 19:12:15
PayPal Donations
/wp-content/uploads/2017/09/logo-Chelseas-Hope.png
0
0
Markou
/wp-content/uploads/2017/09/logo-Chelseas-Hope.png
Markou
2021-11-03 22:03:44
2021-11-06 22:08:18
We're part of the @ChanZuckerbergInitiative's #RareAsOne Network