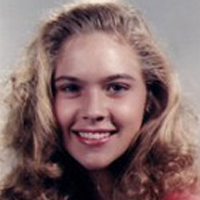 ---
"Dyer Woman Touched Many Lives" by Mary Wilds
Times Correspondent
July 5, 2011
A funeral Mass for Janine Rodriquez was celebrated at S.t Maria Goretti Church in Dyer, with the Rev. Charles Niblick officiating. Memorials may be made to www.chelseashope.org
Janine Rodriquez was "a treasure", said her mother, Marianne.
Rodriquez, who was 34, suffered from a genetic disease called Lafora, a form of chronic epilepsy. Though unable to talk much of her adult life "we felt that her life and her spirit spoke more words than any verbal words.&8221;
Rodriquez had a normal life until a month before her 16th birthday. As the disease progressed, "her cognitive functioning started to decline rapidly," her mother said. "She had great awareness, yet she wasn't able to do anything for herself."
Rodriquez lived longer than doctors originally predicted. "Up until the last day, she loved life," her mother said.
Rodriquez, of Dyer, had been an honor student and a Lake Central Centralette. "She loved to dance and was a very strong-willed individual. She choreographed some of the group's routines, her mother added.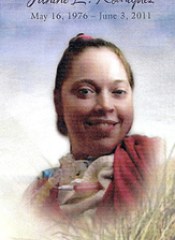 Rodriquez wanted to be a model, and her mother helped her get a start in that, getting her into a beauty pageant when she was 15. She'd finished runner-up. She'd also been in gymnastics and ice skating.
Rodriquez was a figher, her mother said. She got her high school diploma with her class and walked across the platform at commencement. When her home health aide got married, she was a bridesmaid and walked down the aisle with a groomsman. She also was also a bridesmaid for her sister Michelle.
Rodriquez loved the holidays, and the family loved decorating the house for her. She loved watching videos and listening to music.
"We watched the last episode of 'American Idol,'" her mother said. "I'd look at her and she would laugh and smile at me. I felt that her smile was greater than a ray of sunshine."
---
Biography
Janine was a beautiful, intelligent, caring, outgoing child growing into a remarkable young lady. She exhibited all normal physical and mental development with no signs or symptoms of a disease process until the age of 16.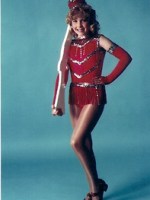 She loved to dance, started at the age of three, and continued till she was unable. She was in various competitions and received trophies for her performances. She was able to have two great years in high school as a Centrallette performing with the school marching band twirling flags and winter color guard. Growing up she also loved ice skating, gymnastics, horseback riding, and swimming.
Janine loved school and was in the National Honor Society. Her favorite subjects were English and History and she had the ability to draw. Very smart! I can remember her reading before she started school. She didn't have to work hard to achieve, just a natural. Janine wanted to go to college and talked about her interest in archaeology, and continuing in dancing, and modeling. She was in a beauty pageant at the age of 15. We never dreamed that her dreams would end so quickly.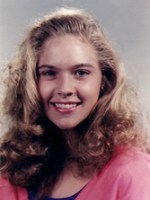 She was basically very healthy, childhood sicknesses, normal colds, sore throat, and chicken pox. Toward the end of her sophomore year, actually a month before her 16th birthday in April, 1992, Janine started complaining of seeing colored spots occasionally and having sudden jerks. She'd mention walking with her books in arms, a sudden jerk and dropping them or writing in class, and a sudden jerk with pencil flying. Her assignments would take longer to finish and she'd be putting in more hours of studying, less sleep. Being a perfectionist, her grades were very important to her and we thought maybe problems were related to stress.
Then one day she fell to the ground jerking, she was awake and was able to get up remembering exactly what happened. Not understanding why this was happening, we took her to her GP doctor, who ordered an EEG and informed us that it was abnormal showing seizure activity. Little did we know that this was just the beginning of the worst to come.
We started her out on a low dose of seizure medication and things seemed to be better, had her 16th birthday party in May and finished her sophomore year. Two months later she complained more of seeing colored spots and had her first grand mall seizure. Her cognitive functioning as far as motor skills and her ability to keep up with others started to decline more. School had to be put on hold. Doctors felt a major underlying cause for her problems and needed a diagnosis as soon as possible. Numerous tests were done, but not until we did a skin biopsy of her sweat glands was then we found out she was diagnosed with Lafora, PME, and there was very little knowledge about this disease.
In the last 19 years, we have experienced so much with so many chapters of a strong willed, determined, person, fighting a disease with a love of life wanting to be accepted reaching out for that quality of life with so much awareness locked in and just wanting to get it out. Alongside her were family and friends who understood, doctors, who she depended on to help her through her journey. She said to me once, "mom, something is happening to me and I can't control it and I don't like the way I am feeling".
There were always generalized seizures, no matter how much medication, but there were good days and bad days and on the good days she would be able to eat better, get her thoughts out quicker, walk better with assistance, sometimes even do things unexpectedly that we thought she would never do again. It just depended on the seizures at the time. There'd be drop attacks, status epileptus, all we could do was treat the symptoms at the time with seizure medication or antibiotics. We spent our time focusing on the present rather than the future.
Eventually she required a g-tube for her feedings, the nourishment she absorbed met her needs and after 10 years we tracked her in an effort to help with her secretions and ventilator to assist her breaths. It's what she needed and she adjusted. Infections would become a challenge. Janine was a fighter and she wanted to live.
Despite all her issues, she continued to look beautiful, still have good and bad days, but aware of her surroundings, people, smiles as beautiful as ever, she loved to have her picture taken, listen to her favorite music Janet Jackson, Whitney Houston, Celine Dion, watch videos, enjoyed American Idol and Dancing with the Stars, all her musical dolls. We kept her involved with all the holidays, and her favorite was Halloween and dressing up. She loved being with her family and nurses.
We made sure, especially with the help of her neurologist, that Janine had whatever quality of life she deserved throughout this disease. She loved people and even though her life was compromised, what she could have of it, she truly appreciated.
I am writing this to make people aware. LAFORA DISEASE IS A TRAGIC DEBILITATING DISEASE no child should have to experience this. No family should have to go through this. It is a physical, mental, emotional, financial challenge. I always tell people the hardest is trying to go on living, keeping a family together in a normal life, when all around you the circumstances are abnormal, but "love conquers all" and perseverance prevails.
A special thank you goes to Chelsea's parents and friend for starting Chelsea's Hope and to all those involved in the research of this disease. We need to keep the funding coming. We need the answers for the children suffering, for those children who have yet to be afflicted, and for the memory of all those like Janine who have passed and wanted to live.
Marianne Rodriquez, mother of Janine.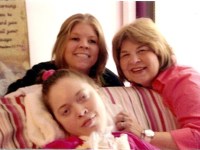 This Mother's day picture taken May 2010 is of Janine, her sister Shelly and mom, Marianne.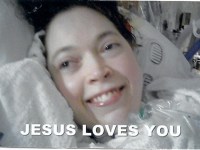 Janine was in the hospital when this picture was taken. Her mother said to her "Jesus Loves You". Janine swung her head up and looked at the camera and smiled. April 2011.
https://chelseashope.org/wp-content/uploads/2017/09/Janine-Lee-Rodriquez-200x200.png
200
200
Chelsea's Hope
/wp-content/uploads/2017/09/logo-Chelseas-Hope.png
Chelsea's Hope
2017-09-24 21:57:52
2017-12-09 22:22:52
Janine Lee Rodriquez