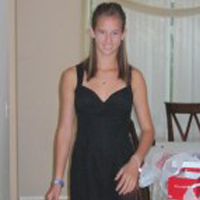 Orange, CA
(November 1, 1995 – April 17, 2014)
Our Angel left us on April 17, 2014. No more thrice daily meds. No more weekly blood tests. No more seizures.
Kelsey fell ill with pneumonia and in spite of antibiotic injections she was unable to take in enough oxygen. The ventilator in the emergency room was not enough. Kelsey died peacefully with her family and friends around her. Her fight is over and we are heartbroken.
Kelsey was born to Frank and Bridget Harris on Nov. 1st, 1995 in Orange, Ca. In her early childhood Kelsey lived in Irvine and attended UCI's childcare centers and Springbrook Elementary School before moving to Tustin in 2004, where she finished elementary school at St. Cecilia's Catholic School.
Kelsey attended Pioneer Middle School and ultimately Beckman High School where she was an honors/honor roll student. She was a senior and scheduled to graduate this year with her fellow classmates.
Kelsey was a perfectionist in every way, as evidenced by her work both within and outside of the classroom. She loved art, helping children and sports of every kind, both as a participant and an observer. She played baseball, softball and basketball but soon determined that soccer was her primary love. She played for the Irvine Premier soccer club, ultimately earning a position as goalkeeper for Beckman High School girls soccer team. While she enjoyed watching every sport, she had a special love for Angels baseball.
In addition to her parents, Bridget and Frank, Kelsey is survived by siblings Erin (24), Ryan (23), Nolan (17) and Mark (13).
Kelsey was an incredible daughter, sister and friend and will be missed by all who were fortunate enough to have known her.
Learn about the Kelsey Harris Memorial Cup
---
Biography
Kelsey's story is tragically similar to many others you can read about on this website. She was born healthy in 1995. She is the third of five children and as she grew, we quickly began to see her individual personality. Even at a young age, she demonstrated a very demanding personality, a perfectionist in virtually everything. She was always a top flight student and as a result, a favorite among the teachers. Her favorite academic pursuits continue to be art and reading. She had natural curiosity, loved going to the beach and to the pool. Always active and independent, she was the poster child for the often heard exclamation "I can do it myself".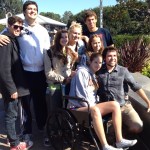 The migraine headaches began when she was 12, periodically leading to tunnel vision and short blackouts. When she was 13 Kelsey began to suffer a migraine during a basketball game and quickly became completely unresponsive. She was awake and her eyes open, but she was almost catatonic, not responsive to any external stimulation. At the hospital she did not react to my presence, did not turn her head or move her eyes. Only when they performed a spinal puncture to test for meningitis did she let out a scream. I was overjoyed that she had "snapped out of it". A few minutes later I witnessed the seizure. Only because I had suffered from epilepsy as a teen did I recognize the small shaking to be a seizure. The doctor immediately gave her an anti-convulsion drug and we were directed to a neurologist and Kelsey began taking daily medication to control the seizures. Still, we were hopeful. Certainly as my epilepsy passed, Kelsey's would as well. Along with the medication came the modest drop in her grades. She had always been a perfect or near perfect student. However when her grades began to slip, I presumed this was due to the medications. For a bit over a year she seemed to be moving along okay. At age 14 and with two older siblings, her thoughts moved to driving. Indeed when she was 15 and had another seizure after nearly two years of being seizure free, she cried, realizing that this reset the calendar and that she was again two years away from being able to drive. By this time she was still a very good student, but not the nearly perfect student she had once been. This began our journey through what another parent has aptly described as "prescription elimination". And the difficulties intensified. In the 10th grade she suffered more seizures, often on the soccer field where she was the goalie on her high school team.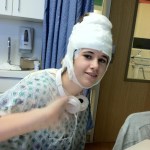 Early in 2012 she was admitted to Children's Hospital of Orange County (CHOC) for week long epilepsy monitoring. By this time she was 16, with a reasonably normal high school experience, goalie on the school soccer team, going to football games and dances. But her seizures were more and more frequent and her grades continued to fall. Still, we anticipated that she would outgrow the seizures and that once she was off her medications her grades would return to normal. This, after all had been precisely my experience. But her physicians indicated that the monitoring showed such widespread activity that they did not expect her seizures to end, that she would be on medication her entire life. This was the first heartbreak. Unfortunately, even with changes in her medication, the seizures continued. So too did the hospital stays. Over the six months from April through September, Kelsey spent over two months in the hospital with her physicians running all manner of tests to better understand what was happening.
We received the confirmed diagnosis of Lafora for Kelsey in mid-October. Since that day our lives have turned in a direction that I previously had not thought possible. No day goes by without tears; no day goes by without the tempering knowledge that our beloved daughter is stricken with a disease with no cure. Like the movie Ground Hog Day, we wake up every morning and we are still heartbroken. Kelsey's cognitive decline seems to be accelerating. Our 17 year old daughter who this time last year was taking AP and Honors courses, now spends her time coloring in cartoon books more appropriately suited for a child half her age. Her normally busy schedule, once filled with school, practices, games, dates and dances is now filled with daily physical and speech therapy, weekly blood tests and twice daily medication to fight off the seizures. Still, she seems happy and joyful, greets everyone with a smile and shows her love for everyone with the sweet and innocent attitude of a much younger child. The only salvation is that she is unaware of what is happening.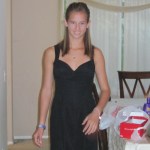 All we can hope for is a miracle development that will give her back that which is being taken. All we can hope for is a miracle development that will give us back our daughter.
Bridget and Frank Harris, Kelsey's parents
https://chelseashope.org/wp-content/uploads/2017/09/200x200-Kelsey-Anne-Harris-1.png
200
200
Chelsea's Hope
https://chelseashope.org/wp-content/uploads/2022/02/ChelseasHope1.png
Chelsea's Hope
2017-09-24 22:15:53
2022-02-17 19:47:17
Kelsey Anne Harris