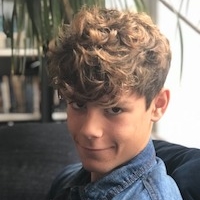 November 15, 2002 – February 26, 2021 / France
Thank you to Mathys Lucas's parents, Christophe and Vanessa, who have shared their son's story.
Mathys loved life
Mathys was a dynamic child who loved horses, horseback riding, and all animals. He was also passionate about American football, which he played for the Quarks near Paris as a defensive back. He was also a fan of the Rams, Travis Scott, and the opera.
Mathys loved life and was keen to try out all the adrenaline-pumping sports, from hang-gliding and paragliding to rafting. He had immense mental strength and a great sense of humor and was a loyal friend. He knew how to cut through things when he didn't like them and could move on without looking back.
He never gave up in the face of illness and always tried to find a way to overcome the handicaps imposed on him by Lafora…
His battle with Lafora disease
Lafora's illness became visible on August 17, 2013, after successive epileptic seizures leading to a strong tonic-clonic seizure and loss of consciousness. It became less present in the following months, then increasingly impactful and more burdensome.
In the autumn of his 17th birthday, we understood that he was suffering from Lafora disease, but we still didn't have confirmation through medical analyses, which we didn't get until May 2020. At that point, we had to have a gastrostomy fitted to feed him properly because the myoclonus of his tongue prevented him from swallowing. Still, the disease was becoming too exhausting and impacting, and he was losing weight and strength.
In his last year, despite the physical and psychological suffering, he managed to exchange smiles with us from time to time; he needed us all the time, knowing we were with him, and words were useless. In September 2020, he understood the path he was on… we supported him until the last day. At his request, we donated his organs to Lafora research.
After several weeks of support from a palliative care team, Mathys lost his battle with Lafora disease on February 26, 2021.
https://chelseashope.org/wp-content/uploads/2023/08/Mathys_Lucas_Featured_Image-2-e1693330311138.jpeg
200
200
Christine Kelly
https://chelseashope.org/wp-content/uploads/2022/02/ChelseasHope1.png
Christine Kelly
2023-08-29 09:23:24
2023-08-29 10:32:09
Mathys Lucas