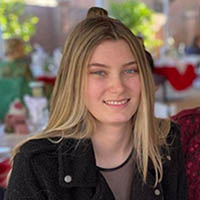 Anissa Merriam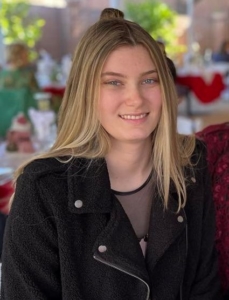 Anissa Merriam was a vibrant teenager, a talented artist who loved anime and excelled in honors classes. But at 14, she started dropping her pencil and her hairbrush, and struggled with her studies. Something wasn't right, she told her parents.
Eventually, Anissa was diagnosed with a rare, neurodegenerative form of epilepsy that strikes in early adolescence, causing intractable seizures and childhood dementia. Most patients die before 30. Today, Anissa, at 23, likes to dress up like 1930s child star Shirley Temple, watch Disney movies and tap dance.
Anissa suffers from daily seizures and childhood dementia. She has a g-tube placed in her stomach to use for all her medications and she experiences ongoing cognitive decline along with swallowing issues.
At the age of 23, Anissa receives full-time care at home from her family and nurses. One of the most heartbreaking aspects of Lafora disease is that it robs seemingly healthy teens of their full potential.
Anissa is a talented artist and had several pieces of art selected for art shows during high school. In fact, she dreamed of studying art in college and using her talent as she reached adulthood. Anissa doesn't draw any more telling her mom that she is unable to draw because her myoclonus, jerking motions, make it difficult to use her pencil and she has seizures while drawing due to Lafora. She often struggles just to write her name. Anissa also expresses her sadness about not having the experiences of driving, college life, and her independence like other young adults her age.
"This is a disease where we watch them go backward."
Anissa's doctors have informed her family that in time and without a treatment or a cure, she will lose her ability to walk and talk. Most children with Lafora do not survive past 10 years from the onset of symptoms.
Helping fund Anissa's fight for treatment will slow the progression of the disease and give her time as she waits for a cure.
She has participated in a two-year natural history study to collect data on the progression of the disease at UT Southwestern Medical Center in Dallas. The information gathered has established biomarkers to help drive a clinical trial that was to begin in 2021.
Unfortunately, the clinical trial was delayed due to covid and other FDA requirements. The delay of this clinical trial was devastating to the family because Lafora progression never stops.
Recently, Anissa and her family were given hope again with a potential treatment that could help slow and possibly stop the progression while she waits for the clinical trial to begin, a biotechnology company with the promising treatment could help not only Anissa but other Lafora patients.
The only thing holding this process back right now is funding and since Lafora is ultra-rare, there is no funding to help to move their treatment forward to patients.
Your donation could make this treatment possible for Anissa and others who suffer from this horrific disease.
Time and slowing the progression are what Anissa an all Lafora children urgently need to make it to delayed clinical trials.
Please read this Washington Post article dated June 4, 2020 sharing Anissa's Lafora story. It was written during covid when trials and research labs were shut down.
Donations can also be made on this website by clicking Donate, PayPal or by mail to Chelsea's Hope, PO Box 348626, Sacramento CA 95834
Please note on behalf of #teamanissa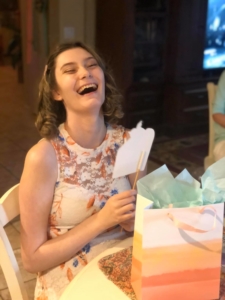 https://chelseashope.org/wp-content/uploads/2022/01/Anissa-200x200-1.jpg
200
200
Markou
https://chelseashope.org/wp-content/uploads/2022/02/ChelseasHope1.png
Markou
2022-01-31 23:43:54
2023-09-01 13:33:36
Anissa Merriam