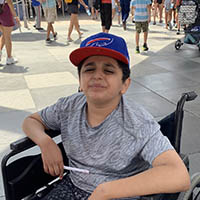 Mother, Azeza Kasham from Ann Arbor, Michigan is pleading for support in the fight against Lafora disease. Mother of three, has already lost her first-born son Haitham to this devastating disease at just 16 years old in 2019 and is now fighting for her second son Gehad, also diagnosed with Lafora disease who is only 12.
"Loosing one son to this disease is enough and now the heartache is harder to bear, going through it all again with Gehad."  cried Azeza Kasham.
A cure didn't come in time for Haitham, but there is hope for Gehad. Lafora disease is a single gene disorder. By replacing one gene you can cure the disease. Scientists have shown they can cure the deadly disease in the laboratory. Families like Azeza's are desperate to bring these treatments out of the labs and into the children who need them.
Prior to this diagnosis, children like Haitham and Gehad were like most other teens in the USA, attending school full time with no signs or symptoms of any abnormalities. They were healthy and normal, had social relationships with family, friends, and peers.
Haitham deteriorated rapidly in a period of about three months where he lost his ability to walk or speak sentences before his passing.
"One day he just fell on the floor and had a seizure" said Azeza Kasham
In 2017, Azeza reached out to Chelsea's Hope Lafora Children's Research Fund for support when Haitham was diagnosed and again in 2019 with Gehad. Small donations and emotional support have been provided by our small organization to help care for Gehad but more is needed.
Azeza had to stop working full time to care for her family and her husband who is recently in remission from Hodgkin's Lymphoma, so not only has it been hard emotionally, the family is not able to financially support themselves due to these illnesses.
Our goal is to raise awareness and much needed funding to continue our mission, research and turn them into therapies. Chelsea's Hope has done so much in recent years and we are almost there….hope is closer than it ever has been before!
https://chelseashope.org/wp-content/uploads/2021/09/Gehad-200x200-1.jpg
200
200
Markou
https://chelseashope.org/wp-content/uploads/2022/02/ChelseasHope1.png
Markou
2021-09-28 18:04:37
2022-02-17 19:43:01
Gehad Breadiy