/wp-content/uploads/2017/09/logo-Chelseas-Hope.png
0
0
Alan Barter
/wp-content/uploads/2017/09/logo-Chelseas-Hope.png
Alan Barter
2021-01-31 09:52:04
2021-01-31 10:00:13
Calling all People and Caregivers in the Lafora Disease Community: We need your help!
Just Like A Butterfly by Niki Markou
"Just Like A Butterfly" Audio Release Date: February 10th, 2021, available on multiple digital music platforms like Spotify, Apple Music & TikTok. We ask you stream the song and also make a donation! Help save our children.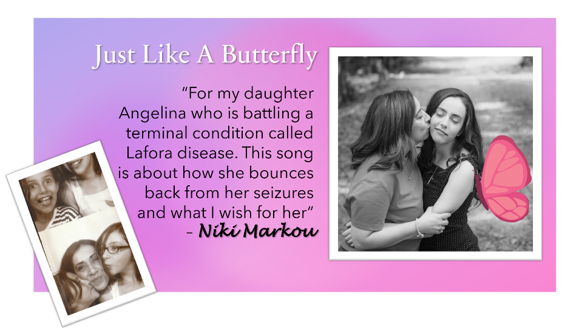 "This journey has been extremely difficult and devastating and we do not want to lose our beautiful girl. I have written a song that is about how she bounces back from her seizures and what I wish for her " – Mother, Niki Markou
/wp-content/uploads/2017/09/logo-Chelseas-Hope.png
0
0
Alan Barter
/wp-content/uploads/2017/09/logo-Chelseas-Hope.png
Alan Barter
2021-01-31 09:24:03
2021-01-31 09:59:15
A Special Song for Angelina
Dear Lafora Families,
With funding from the Global Genes' Continuity of Care RARE Patient Impact Grant, Chelsea's Hope is offering grants to Lafora Households Impacted by COVID-19.
Limited funds are available, but we hope to help as many patients as possible. The application deadline has now been extended a week to December 7, 2020. All applications will be reviewed with the goal of making awards by December 15, 2020. Please contact Chelsea's Hope with any questions or for help completing the form.
/wp-content/uploads/2017/09/logo-Chelseas-Hope.png
0
0
Frank Harris
/wp-content/uploads/2017/09/logo-Chelseas-Hope.png
Frank Harris
2020-12-01 21:19:08
2020-12-01 21:21:40
Chelsea's Hope Patient Assistance Grant Deadline Extended
/wp-content/uploads/2017/09/logo-Chelseas-Hope.png
0
0
Frank Harris
/wp-content/uploads/2017/09/logo-Chelseas-Hope.png
Frank Harris
2020-03-09 14:00:46
2020-03-09 14:02:43
The Epilepsy Foundation Releases Statement on Coronavirus
"The 5th International Lafora Epilepsy Workshop: Basic science elucidating therapeutic options and preparing for therapies in the clinic"
/wp-content/uploads/2017/09/logo-Chelseas-Hope.png
0
0
Alan Barter
/wp-content/uploads/2017/09/logo-Chelseas-Hope.png
Alan Barter
2020-03-09 06:15:41
2020-03-09 06:15:41
5th LECI workshop Paper
/wp-content/uploads/2017/09/logo-Chelseas-Hope.png
0
0
Alan Barter
/wp-content/uploads/2017/09/logo-Chelseas-Hope.png
Alan Barter
2019-12-04 07:56:59
2019-12-04 09:19:13
2019 Lafora Disease Spotlight - Thomas
Disorder: The Rare Disease Film Festival is a new event showcasing films from around the world which address the challenges of life with a rare disease. Most (but not all) of the films are documentaries. Many are less than 15 minutes. This year's festival, scheduled for November 9th and 10th, will include Faces of Lafora, a documentary film by Denis Bojic. Faces of Lafora illustrates the heartbreaking impact that Lafora Disease has on patients and their families, as well as the efforts to find a cure for this horrible disease. Read more
/wp-content/uploads/2017/09/logo-Chelseas-Hope.png
0
0
Frank Harris
/wp-content/uploads/2017/09/logo-Chelseas-Hope.png
Frank Harris
2019-10-11 19:34:33
2019-10-11 19:40:39
Lafora Documentary to Be Shown at San Francisco Film Festival
/wp-content/uploads/2017/09/logo-Chelseas-Hope.png
0
0
Frank Harris
/wp-content/uploads/2017/09/logo-Chelseas-Hope.png
Frank Harris
2019-09-23 21:47:43
2019-09-23 21:59:06
Summary of 2019 Lafora Workshop