It's our first year acknowledging a day for Lafora disease and October 1st is the day.
Lafora Body Disease Day
Our mission is;

Creating Awareness – Connecting Families – Funding Research – Maintaining Hope
Our goal is to raise awareness and much needed funding to continue the research and turn them into therapies. We have done so much in recent years and we are almost there….hope is closer than it ever has been before!
We are dedicating the whole month to creating awareness by asking for help from all of you to ensure we reach our goals!
So please join us for Lafora Body Disease Awareness Month!
Week 1 – Fri  1st October
Message 15 of your friends to set their #AmazonSmile charity as Chelsea's Hope Lafora Children Research Fund or ask them to donate $20!
Tag us in your posts or hashtag #laforabodydiseaseday #AmazonSmile #EpilepsyFoundation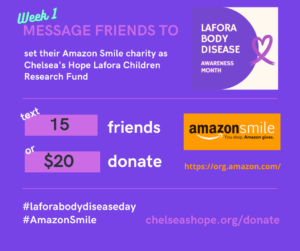 Week 2 – Fri 8th October
Create an event – Host a special night, invite your friends and ask for a $20 donation.
Tag us in your posts or hashtag #laforabodydiseaseday #laforamovienight or #laforagamesnight or #laforadrinksnight #EpilepsyFoundation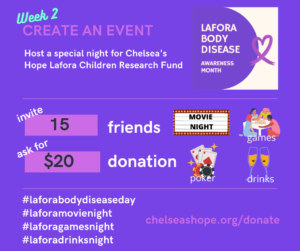 Week 3 – Fri 15th October
"Challenge Your Friends Week"
Do the #OneChipChallenge or #CandyJarChallenge guessing competition and ask for $20 donations or nominate 3 friends to challenge you and pay $20.
Tag us in your posts or hashtag #laforabodydiseaseday #onechipchallenge #candyjarchallenge #EpilepsyFoundation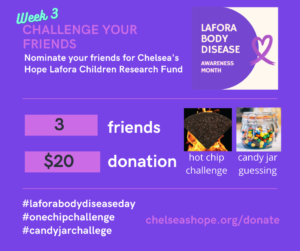 Week 4– Fri 22nd October
Wear purple lipstick, tag us in your posts and nominate 3 people to donate $20
Hashtag #purplelipsforacure #laforabodydiseaseday #EpilepsyFoundation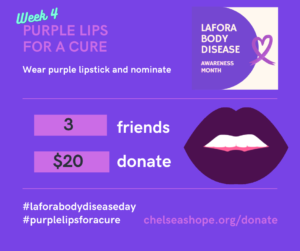 Week 5 – Fri 29th October
Create an event – Host a Halloween party, invite your friends and ask for a $20 donation
Tag us in your posts or hashtag #laforabodydiseaseday #laforahalloweennight #EpilepsyFoundation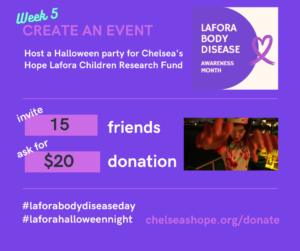 We look forward to seeing your posts on Facebook
https://chelseashope.org/wp-content/uploads/2022/02/ChelseasHope1.png
0
0
Markou
https://chelseashope.org/wp-content/uploads/2022/02/ChelseasHope1.png
Markou
2021-09-28 19:41:32
2021-09-29 03:02:21
Lafora Body Disease Day & Awareness Month - October 1st