Anissa with Lafora Disease:
Sister Mariah talks about sibling survivors' guilt
For our second annual Lafora Body Disease Day this October 1st, 2022, we wanted to share the Merriam family story.
Watch sibling Mariah Merriam talk about her challenges of being the only sibling without Lafora disease and the survivor's guilt she feels watching her sister Anissa and brother Ty slowly die, whilst she lives her life as a normal young adult. She discusses the signs she noticed in her sister as the years went on until they received the diagnosis and her life's mission to study in a Lafora lab on research to find a cure for her siblings. Mother Jenifer Merriam also talks about how it has affected her family.
Lafora Disease is a degenerative neurological condition affecting children. It is terminal; there is no cure. Perfectly healthy children first show symptoms in their early teens and typically die within ten years. Lafora disease is ultra-rare, with around only 80 registered children affected in the world and a suspected 200-300 patients worldwide.
We will be creating awareness and sharing patient and family stories throughout October for you to see the devastating result of the shocking degeneration of young teens who had a whole life ahead of them. No child should face their own death.
Please help us reach a cure! Share our stories in any way you can and via your social media channels (see below) by posting, sharing, reposting, and retweeting this week and for the whole month.
"We rely on individual contributions to raise funds for research, treatment, and ultimately, a cure for those affected by Lafora disease so please donate where you can."
Read more on our Press Release here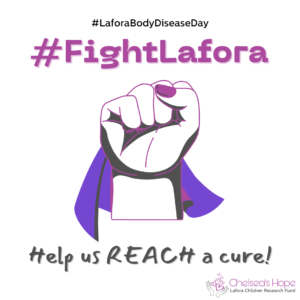 You can tag us on:
Facebook: @chelseashopelaforacure
Instagram: @chelseashopelaforacure
Twitter: @Chelseashopela1
LinkedIn: Chelsea's Hope Lafora Children Research Fund USA
Tiktok: @chelseashopelaforacure
Hashtags:
#LaforaBodyDiseaseDay
#FightLafora
#ChelseasHopeLaforaCure
#LaforaDisease
#RareDiseaseAwareness
Thank you for all your support! Together, we can #FightLafora.
For Media inquiries, please contact niki@chelseashope.org
Donate Today!
https://chelseashope.org/wp-content/uploads/2022/02/ChelseasHope1.png
0
0
Markou
https://chelseashope.org/wp-content/uploads/2022/02/ChelseasHope1.png
Markou
2022-10-01 04:00:17
2023-02-14 11:58:00
Our second annual #LaforaBodyDiseaseDay is October 1st, 2022