Maine, USA
Mia Clement was a healthy student-athlete before her first seizure at age 12. After her second seizure, her family took her to a neurologist, driving four hours to access her care. Then, after multiple tests and lots of waiting, Mia was diagnosed with epilepsy and given Keppra to manage it. She was told there was a 50/50 chance that she would grow out of her seizures after she became an adult.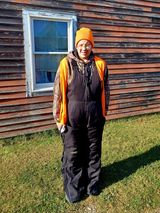 However, Mia's seizures became closer and more violent. The doctor upped her Keppra but Mia started having memory and mobility difficulties, falling on the basketball court and forgetting where her classes were in school. Her family got a second doctor closer to their home in December 2019. Finally, after a genetic test and sleep study, Mia was diagnosed with Lafora disease.
"We got the results in March of 2020, right when Covid-19 hit, that she was terminal," says her mother, Felicia Moore.
It was a shock to us all. How can this be? How long does she have?
Now, three years later, Mia's Lafora symptoms have progressed rapidly. Sometimes she has energy and is in good spirits; some days, there is nothing but flickers and dementia. She has days where she seizes hard and stops breathing. Mia has hit her head so many times and suffered two broken noses, staples in her head from cuts, and countless scrapes and bruises.
This disease has taken away everything from her.
Mia struggles to feed or care for herself because of Lafora symptoms. Her well-being has changed drastically. Felicia cares for her full-time, with help from her sisters, while her father works a full-time job. Mia will be turning 20 in June 2023. She is a warrior!
Thank you to Felicia Moore for sharing Mia's story and her experiences caring for her.
https://chelseashope.org/wp-content/uploads/2023/03/Mia-Vivian-Clement-e1678303856356.jpeg
200
200
Christine Kelly
https://chelseashope.org/wp-content/uploads/2022/02/ChelseasHope1.png
Christine Kelly
2023-03-08 11:26:35
2023-04-20 09:58:47
Mia Vivian Clement