Scott and Laurie's Parent Diary: December 2013
I want to share the joys our family has been blessed with since Lafora came into our lives, yes, there are joys.
Sometimes it is a small smile or "that" look… Occasionally it is ignorant bliss. In the last few months we have had to begin the tedious task of telling family and friends of Alexis' condition. While some have distanced themselves, others have stepped up.
A local radio DJ, Tina Smash of Rock 105.5, is one of the ones we have been blessed with. Alexis has a profound love of music. Tina Smash has made it possible for Alexis to go to several concerts recently, and has become our friend! The latter has been the real blessing.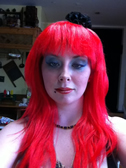 Pop Evil, the band, if you like Rock music, as I am their biggest fan now and forever- I REALLY LIKE THE MUSIC TOO! It wasn't when they gave Alexis a few merchandise items; including an autographed guitar on stage!, that made us happy…ok, Alexis said not true, that really made her happy! It was that they really took the time to talk to her and she was able to join them on their tour bus, even eat dinner with them. She is still in contact with them! Those memories I cherish long after the worst happens.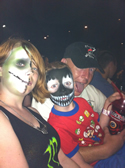 My family made the choice to tell Alexis everything that is going on. Did she cry and make a fuss?? HELL YES! But, after a few days, she came to us and we discussed a bucket list. She has been braver than anyone I have personally met. We are currently trying to fulfill her list. She has gotten her hair dyed, gone to concerts, and receiving autographs. She has good days and bad days; and we have just begun to learn to take full advantage of the good days since they are coming less frequently now. We are currently working with Make A Wish.
I wanted to share these few joys with you so you know that while it can be hell, heaven is all a point of view. Without Lafora, my daughter would be driving, dating, going to high school and possibly have a job and preparing for life on her own, but, with it, our family has learned to truly take each moment as "the" moment.
I dread and look forward to the future; I am scared… No one knows when it will end. Alexis just has a little more of a window, which is a cursed blessing. We are getting opportunities very few will ever have and we have the chance to ENJOY LIFE! While it lasts.
Are you making a memory or wasting moments? If I sat around all the time and cried, that would be the waste, so if you ever drive by a car and see some crazy lady blaring the radio and dancing and singing like a fool with a teenage girl as the passenger giggling like a fiend… Smile and wave because that is most likely me, making my memories!
Laurie Howard
Alexis' mom