Berge A. Minassian, M.D
Berge A. Minassian, M.D., is a Professor in the Department of Pediatrics at UT Southwestern Medical Center. Dr. Minassian is a pediatric neurologist whose clinical specialties are epilepsy, neurodegenerative diseases, and neurogenetic conditions.
The Chief of UT Southwestern, he also leads the Neurosciences Center at Children's Health in Dallas. He serves on the faculty of the Children's Medical Center Research Institute at UT Southwestern, as well. Dr. Minassian is a Fellow (Neurology) of the Royal College of Physicians and Surgeons of Canada and a founding member of the American Academy of Neurology's Neurogenetics Section.
Dr. Minassian has been active in neurogenetics research for his entire career. Two of his primary interests have been Lafora disease, for which his lab discovered the genes, and adult polyglucosan body disease. He has published more than 120 scholarly articles and authored or contributed to 10 books.
Prior to joining the UT Southwestern faculty in 2016, he was a Professor of Neurology at the University of Toronto, a pediatric neurologist at Toronto's Hospital for Sick Children, and a senior scientist in genetics and genome biology at the Hospital for Sick Children Research Institute.
Dr. Minassian earned his medical degree at McGill University Faculty of Medicine and performed a residency in adult neurology at the Veterans Administration West Los Angeles Medical Center. He then completed a clinical fellowship in pediatric neurology and epileptology, as well as postdoctoral research fellowships in both molecular genetics and molecular neurogenetics at the University of Toronto's Hospital for Sick Children.
Antonio Delgado-Escueta, M.D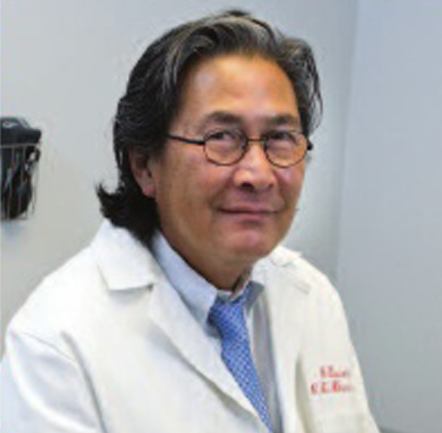 Dr. Antonio Delgado-Escueta is a world-renowned physician-scientist and authority on Lafora progressive myoclonus epilepsy and other types of epilepsy. His laboratories first mapped the chromosome 6q24 locus for Lafora progressive myoclonus epilepsy with Jose Maria Serratosa in 1995. Together with previous and present postdoctoral students, notably Jose Maria Serratosa and Berge Minassian, and collaborators S. Ganesh and Kazuhiro Yamakawa from RIKEN Brain Science Institute, they have been mainly responsible for refined mapping and isolation of Lafora Disease genes. Together with S. Ganesh and K. Yamakawa, they developed a mouse model of Lafora Disease, which is deficient in the laforin/DSP gene. This mouse model has aided in our understanding of the mechanisms of Lafora disease and developing treatment.
For over 20 years, Dr. Delgado-Escueta has been working diligently to solve the mystery that is Lafora disease epilepsy, but progress has been severely hampered due to limited resources. In 2003, Dr. Delgado-Escueta received a small grant to provide seed funding from Citizens United for Research in Epilepsy (CURE) to support gene therapy research in Lafora-deficient scientific models.
This grant helped initiate the research of Dr. Eain M. Cornford and Shigeo Hyman and resulted in their NIH funding and even greater progress in developing experimental gene replacement therapy in Lafora disease mice.
Dr. Delgado-Escueta's former students, postdoctoral scholars, and collaborators have started independent research groups that continue to study Lafora disease all over the world, including Spain (J. Serratosa), Canada (B. Minassian) and India (S. Ganesh).
Matthew Gentry, Ph.D
Matthew Gentry, Ph.D. received his B.S. from the University of Evansville in 1996. He then studied yeast cell cycle regulation via protein phosphatase 2A at Syracuse University in Dr. Richard Hallberg's lab, receiving his Ph.D. in 2003. He was a postdoctoral fellow at UC-San Diego with Dr. Jack Dixon where he discovered glycogen and starch phosphatases and how they are integral for both human and plant energy metabolism.
He began his independent career in 2008 and he is currently a Professor in the College of Medicine at the University of Kentucky where he oversees projects on both Lafora disease and biofuels research. The lab focuses on the regulation of specific phosphatases and E3 ubiquitin ligases in both human glycogen and plant starch metabolism utilizing in vitro biochemical and structural techniques; in situ cell culture models; and in vivo mouse, algal and plant models. Dr. Gentry is a Journal of Biological Chemistry Editorial Board member and he is on the Executive Committee of the ASBMB Public Action Advocacy Committee (PAAC) that advocates for science funding. He has been continuously funded by NINDS since 2006, he is an NIH K99/R00 Pathway to Independence Award recipient, he received the NIH Young Investigator IDeA Maciag Award, he is an NSF CAREER awardee, and PI of both a NINDS R01 and P01. The NIH P01 grant established the Lafora Epilepsy Cure Initiative (LECI) that Dr. Gentry directs. The LECI is a multi-national collaboration that includes Drs. Joan Guniovart (Institute for Research in Biomedicine, Barcelona, Spain), Berge Minassian (UT-Southwestern), Peter Roach (Indiana University), Anna DiPaoli-Roach (Indiana University), Pascual Sanz (CSIC, Valencia, Spain), Jose Serratosa (IIS-Jimenez Diaz Foundation, UAM, Madrid, Spain), Craig Vander Kooi (University of Kentucky), Dave Watt (University of Kentucky), Steve Johnson (Indiana University), Tom Hurley (Indiana University), Antonio Delgado-Escueta(UCLA), and Carolyn Worby (UC-San Diego).