Linda & Howard Gerber's Parent Diary: December 2012
It was in December 2005 when the formal lab results confirming Lafora disease came to us. Our worst nightmares confirmed and life as we knew it was forever changed. It's hard to put into words what these past seven years have done to Chelsea and our family and seems as though we have been living this horribly altered state of existence forever.
It saddens me to my core knowing my beautiful, funny, bright, energetic and very spirited daughter has undergone such an enormous transformation. Although through it all, there is reason to smile as my daughter miraculously seems to beam with joy 99% of the time; and considering that she no longer is aware of what has happened, I must raise my own level of being and alter my attitude and actions to not let Lafora beat me. Chelsea is my inspiration to continue on; and believe me there are many days when I'd much rather cover my head and pretend none of this is happening.
Since my last update, Chelsea's ability has once again turned to a quieter demeanor and the several weeks of spunk and energy she experienced in the spring has subsided. Her overall health is actually good, which seems so odd to write considering how Lafora has taken all her abilities away. But for the most part, she remains in a rather healthy state. She hasn't experienced as much as a cold or flu in probably more than 10 years, and has never had any kind of infection that some of our children are so prone to. I attribute her overall well being to the albuterol breathing treatments, rigorous VEST airway clearance treatments and stander to keeping her in good shape, as well as the excellent care she gets on a daily basis from me and our caregivers. Chelsea's seizure control is, for the most part, well maintained and should she experience grand mal activity, it is generally while she is asleep.
As times moves on, our days meld together with not much difference between one to another. Chelsea's routine keeps me and her caregivers fairly busy throughout the day, but when I have the chance, I get out alone…sometimes for nothing in particular. I find that if I don't mingle among others; maybe grab a bite with a girlfriend, or get my face in the sunshine and take a walk or goof around a little bit; I am not much good for the attention I need to give to Chelsea at night. The days are often very long, 7 a.m to about midnight with interruptions often throughout the night, and I find that I often don't always get the sleep I need to keep myself going strong. It is a constant struggle to keep my emotional balance and well being if I am exhausted and also confined to the house every day. Somehow, though…I keep going. We are very fortunate to have excellent caregivers working with us and without them; I don't know how we would continue from day to day.
The year has blown by so quickly and only when I go through photos can I recall what fun may have been had. Our closest of friends continue to be by our side and bring the festivities to the house often, especially on a holiday for a bit of celebrating with Chelsea. It's the little things that bring the joy to her.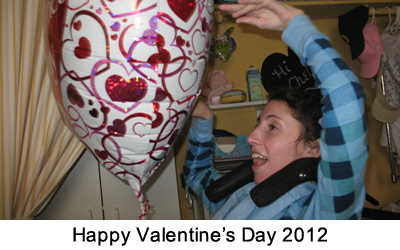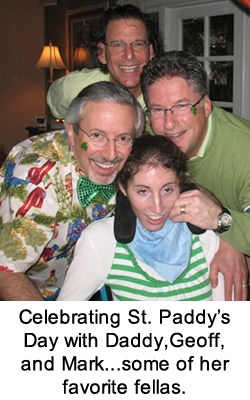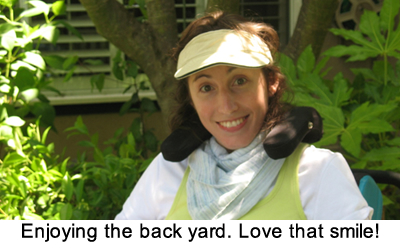 I am amazed at how life has taken such a turn for Chelsea and our family, but as I mentioned earlier…it's the small joys we need to remember and resonate with. As long as my daughter continues to smile, then I too, must find a reason to smile.
There are many days that I will go into Chelsea's room to check on her and find her grinning from ear to ear under her sleepy mask. I have no idea what may be going on in her head, for she cannot tell me, but to see her content as a baby feels like a small miracle. My heart is so full when she is like this, it's almost as though it isn't breaking.
As the year comes to an end I hold onto the HOPE that Chelsea's overall health will continue to be steady and that the very promising Lafora research being done by Dr. Minassian's research team will be promising of a future for all our children.
Always with HOPE,
Linda